June 23, 2010 2:15 am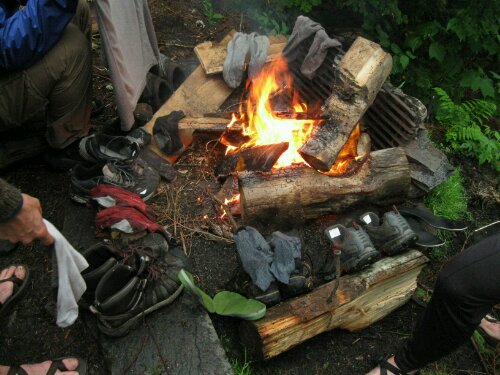 Date: 6.23.2010
Location: Chairback Mountain, Maine
I awoke this morning around 4:30am with a few gentle rain drops kissing my face. I had the bug net on my hammock but did not put the rain fly on the night before. I got up and quickly put on the rain fly and went back to sleep for a few hours.
When I finally dragged myself up in the morning it was starting to rain all out. I grabbed my stuff, packed my hammock up and made my way over to the lean to. Dan had showed up there the night before and we began to chat, getting to know each other while trying to stall going out in the rain to begin hiking.
I had been lucky up to this point, I had not done any rain hiking but I knew it was inevitable I would have to. Shortly before I left I we met Thrill Billy and Tooth Pick.
I said my good byes to Dan and headed out in the rain eager to try out my expensive new rain poncho. Unlike most ponchos it is super lightweight and breathable.
Although I have hiked in the rain before, this was my first rugged terrain rain hiking experience. Well it was a rough one! I fell about 10 times!!! I am lucky I did not injure myself.
If you don't rain hike you'll never finish. So I rain hiked. Through a river crossing and Yup up and over a mountain:( Chairback Mountain had to be crossed and at its top, oh joy a great big boulder field. I wish I had a picture of that field. Since it was raining and life and limb were my main concern I did not get a picture. I survived it. Actually going up in the rain is preferable to going down, even if it is a boulder field.
My poncho did a good job of keeping my pack, chest and head dry but everything from my knees down was sopping wet as well as my arms.
I came to Chairback lean to around 5. It took me 6 hours to go 10 miles. Pathetically slow but at least it was uninjured progress in the rain.
Toothpick, Thrill Billy and a northbound section hiker named Stephan were already there. Dan showed up a bit latter and convinced us despite the rain he could get a fire going. He sure did! The rain let up and we all huddled around the fire trying to dry something to wear for the following day. Shoes and socks were singed lol but we managed some drying.
Just at last light 2 girls showed up. Connor and Carla. It would have been way too crowdedvin the lean to and I really had no desire to sleep in it so I did the gentlemanly thing and moved my stuff out to make room and set up my hammock for the night.
I hope the rain goes away tomorrow!!!