June 28, 2010 10:00 am
4 Comments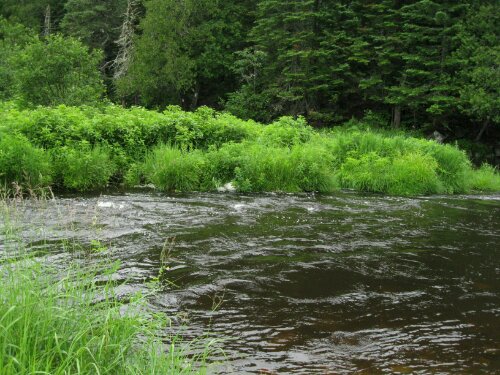 Date: 6.28.2010
Location: Monson, ME
My stay in Monson was great. I stayed at Shaws hostel. Dick, Dawn and Dana were the staff and they were great!
I was able to rest, watch World Cup. A few of us chipped in and had Dick drive us to Greenville, Maine near Moosehead Lake to go to a decent grocery store and a Northern Outfiters gear shop. I had to buy a new water pump. A little upset mine broke after only 1 weeks use but happy I for something much lighter.
Headed back to a sopping wet trail. A few I'd us left Shaws together and all thought despite the rain we could easily make 15 miles. The maps some had showed the terrain as flat so it seemed like an easy day despite the rain.
There is nothing like hiking in the pouring rain to drag down your spirits. At first you try to keep your feet dry, hopping on rocks, stepping on the sides etc. After you slip a few times and your feet are drenched you kinda give up and just slop right along.
I crossed 4 or 5 streams and small rivers. Again at first you take off your socks and boots and put on your river shoes, but after a while I didn't even bother. One stream (photo above) was waist deep with some very strong currents. It was tough not to get swept down stream. My Treking poles were a great help.
I have at least learned to keep a dry set of clothes in a zip lock bag so I always have something clean and dry to sleep in even if it means putting wet clothes back on the next morning (yuk!!!)
On a brighter note Mother Goose says there are no water crossings on the trail after Maine:)